Kit out your 4x4 with all the electrical gear you need off the beaten track
Your 4WD auto electrician in perth.
At Voltaic, we love getting off the open road and heading out for an adventure. Being 4WD enthusiasts ourselves, we know what you need to stay safe and in contact when off the beaten track. We can take your 4WD vehicle to the next level with a range of off-road vehicle accessories and 4×4 electrical equipment that will enhance the look, performance, and safety of your vehicle both on and off the road.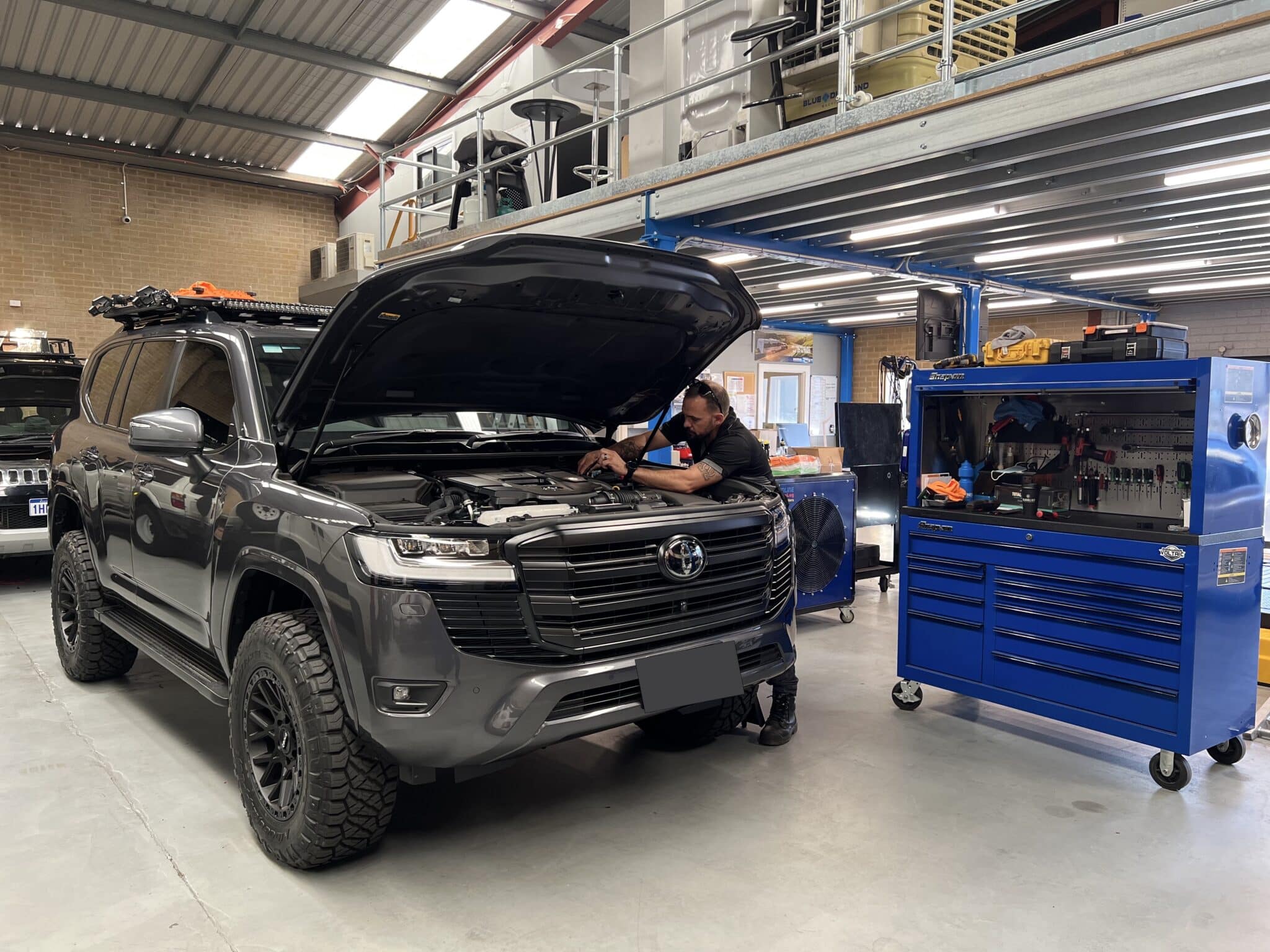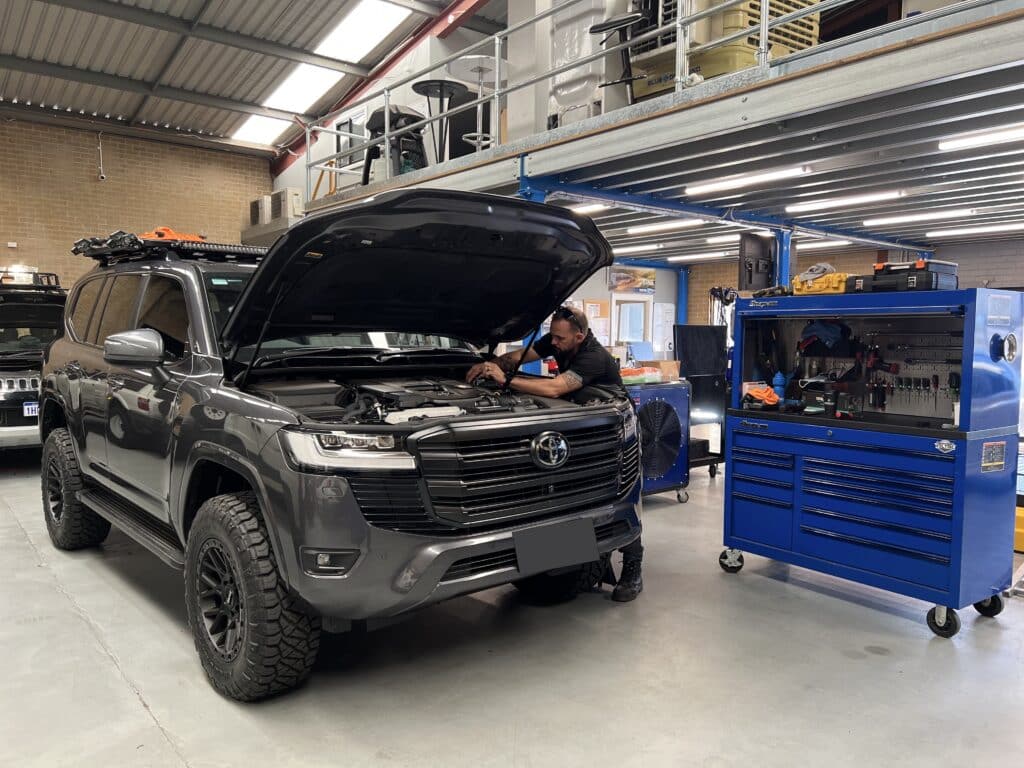 4x4 lighting and spotlight installation.
Struggling to see while driving at night can be dangerous. It can be especially hazardous on the open road, with the risk of wildlife and other obstacles crossing your path. The 4WD lighting experts at Voltaic offer a range of high-quality lighting options, including LED spot lights and LED light bars. Our team can help you see better on the road, off the beaten track, or around the campsite.
4WD UHF radio installation.
When you are off-road, it's important to keep in contact with your party and with others on the track. The best way to communicate while off roading is with a UHF radio from Voltaic. Our team of off-road enthusiasts are UHF radio experts and can help you find the right UHF radio to suit your needs. We also know how to install the radio in your vehicle for the most convenient operation with no interference.
Electric brake controllers.
An electric brake controller is an important safety measure to ensure your vehicle stops safely when towing a trailer exceeding 750kg Gross Trailer Mass (GTM). The off-road experts at Voltaic supply and recommend high-quality REDARC electric brake controllers, with expert installation by our team in Welshpool. With Voltaic on your side, you 'll stop safely first time, every time.
Dual battery setup for your 4x4.
4WD dual battery systems are a smart addition when travelling the outback or heading off-road. A reliable backup battery to start your vehicle when you are off the beaten track can be a lifesaver. Voltaic can install a dual battery system in your vehicle, no matter the make or model. With a dual battery system from Voltaic, you will always be prepared for your next off-road adventure.
Portable battery systems.
If you're looking for a campsite power source that can power your fridge, freezer, camp lights, and charge your phone, a portable battery from Voltaic could be the answer. Portable batteries are ideal as they also offer the flexibility to be switched between vehicles. Voltaic offers an excellent range of portable battery systems to suit your needs and your budget.
Solar panels for your off-road vehicle.
If you want to extend your system's staying power when you are off-the-grid, you need a solar panel system from Voltaic. A solar panel installed on your 4x4 will allow you to charge your vehicle's battery and increase the time it lasts between vehicle starts. We offer both portable and fixed panels, which our team can install permanently on your vehicle ready for your next adventure.
4x4 air conditioning.
The Australian weather can be hot and unforgiving, especially in the outback. To keep cool in your 4x4 when travelling off-road, it is essential your air conditioning system is serviced regularly and kept in good working order. Whether you need repairs or servicing of your off-road vehicle's air conditioning system, the 4x4 air conditioning experts at Voltaic can help keep you cool.
Frequently asked questions.
What 4x4 electrical accessories do you recommend for my off-road vehicle?
The right accessories for your vehicle will depend on your vehicle type and what you use it for. Voltaic offers everything from electrical additions, such as USB ports and 12v sockets, to full professional lithium/solar off-grid setups. We recommend bringing your vehicle in to us so we can work with you to understand your requirements and fit out your 4×4 with everything you need both on and off the road.
How long can I run my fridge on a dual battery system?
Dual battery systems are measured by the battery's Amp-hours (Ah), which range in capacity depending on the battery. The length of time a dual battery system can run your fridge is determined by the current draw of the complete system, including the fridge. The current draw can change in different environments but, as a base line, a 100Ah battery will run a standard 30L fridge for roughly 12-24 hours.
What distance should I get out of my UHF?
UHF radios vary in transmission power but most quality vehicle-mounted UHF radios generally have around 5 watts of power. A 5-watt UHF radio with a good 6db antenna will give you a range of 5km to 10km.